Straight Drop Awnings
Straight drop awnings - transform your outdoor area into an enclosed entertaining area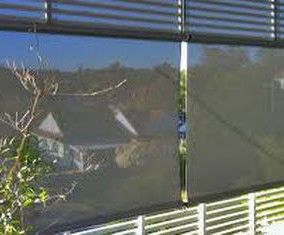 Straight Drop Awnings are perfect for providing some sun protection on your Alfresco and Porch. They can be spring controlled or you can operate them with a gear and crank. At Blindsville we have a large selection of fabrics including the traditional option of canvas or the more modern PVC screens.
Maximise your privacy whilst minimising your home's heat transfer with our Straight Drop Awnings. They can withstand the elements & provide a stylish enclosed outdoor area, so you can enjoy entertaining all year round.
​Specifications:
Style: Straight Drop Awnings are available in a variety of colours & are either 95% or 99% Mesh, Plus, your choice of Hood colour.

Operation: Spring or Gear & Crank.

Base: Straight or Scalloped Valance.

Privacy: 95% Mesh allows 5% of air into your enclosed area. 99% Mesh is thicker & allows 1% of air into your enclosed area.

Flame Retardancy: Many of our fabrics are Flame Retardant.

Warranty: 5 Years.